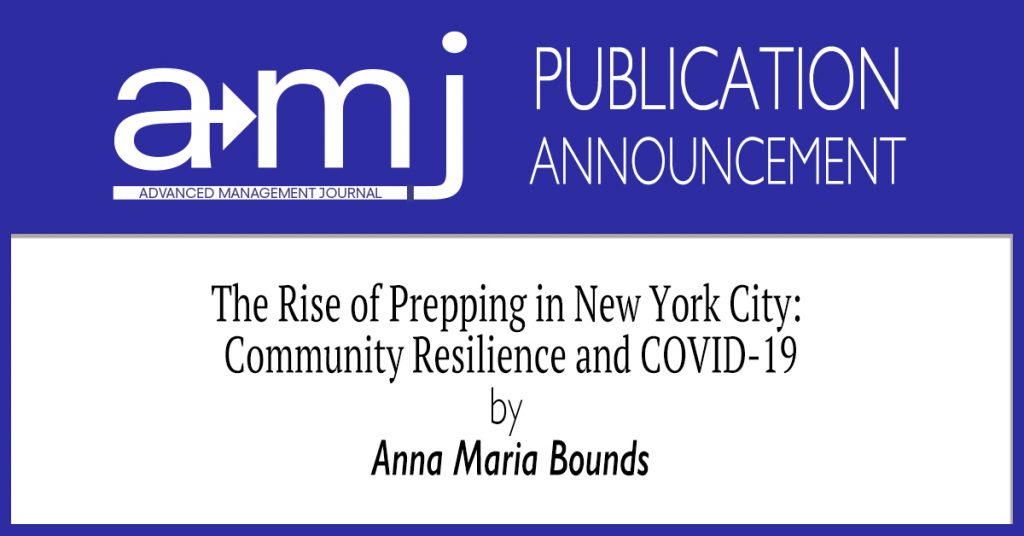 PUBLICATION ANNOUNCEMENT
The Society for Advancement of Management is pleased to announce the publication of The Rise of Prepping in New York City: Community Resilience and COVID-19. The paper written by Anna Maria Bounds has been published in Volume 86 Edition 1 of the SAM Advanced Management Journal.
Abstract
The COVID-19 pandemic's brutal impact on New York City has laid bare the social inequalities and injustices of living in a global capital. To better understand urban prepping as a process for helping communities to plan and respond to disaster, this analysis draws on Faulkner, Brown, and Quinn's (2018) framework of five capacities for community resilience: place attachment; leadership; knowledge and learning; community networks; and community cohesion and efficacy. Given the New York City's Prepper's Network mission to acquire preparedness skills, knowledge and learning were core principals of the group it was found that community cohesion was reinforced throughout preparedness training as group members learned to develop their individual skills and to rely on one another. This research also points to the need to develop disaster management approaches that can expand the traditional "command and control" models while making space for local knowledge and resources only works to increase community resilience.
Additional reference and abstract information on this article can be found here. If you are a subscriber or member of the Society for Advancement of Management, access the full-text article or PDF download by visiting here. Not a subscriber or SAM member, you can purchase your copy of Volume 86 Edition 1 here, or purchase a digital download of The Rise of Prepping in New York City: Community Resilience and COVID-19 by visiting the articles webpage and clicking purchase article here.